BREAK FREE FROM THE STRESSES OF YOUR EVERYDAY LIFE IN OUR YOGA CLASSES
Jeff Speakman's Kenpo 5.0 Whittier is proud to offer the life-changing ancient practice of yoga.
Our excellent yoga instructors guide each student in the poses, breathing, and movements that will help them be their healthiest, happiest self.
Ready to thrive?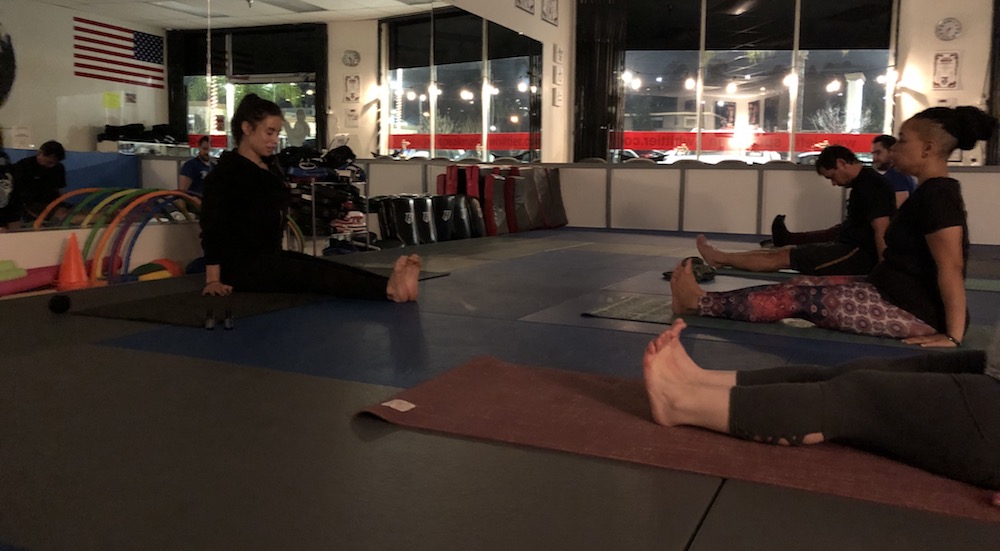 WHY YOGA FOR EXERCISE?
Yoga involves movements that bring attention to your full body, including places you've never worked out before!
These unique poses serve specific purposes, whether it's increasing balance, flexibility, endurance, or strength.
Natural Tone – Slim to your natural, toned self.
Full-Body Strengthening – Improve muscles you didn't even know you had.
Flexibility – Prevent injury and enjoy regular exercise that's easy on your bones and joints.
JEFF SPEAKMAN'S KENPO 5.0 WHITTIER: YOGA YOUR WAY
This class is uniquely designed for you.
It combines physical, mental, and emotional healthfulness in a way that caters to the individual – not matter your history, background, or abilities.
Set your intention: We give you the space to focus on your personal growth.
Lean modifications: We show you modified poses to accommodate any limitations – and even bring healing to nagging injuries.
Slow down: We're here to guide you and slow your pace of life so that you can rest and find out what matters to you.
WHY WHITTIER LOVES YOGA AND YOU WILL TOO
Active Relaxation – Get fit and relax at the same time!
Mental Break – Learn to enjoy the moment you're in.
Emotional Attention – Get in touch with yourself. Enjoy the personal attention you deserve.
Comfort – Know that you fit in and will enjoy benefits, not matter 'where you are' today.
WHY WAIT? START ENJOYING ALL THE BENEFITS OF YOGA AT JEFF SPEAKMAN'S KENPO 5.0 WHITTIER!